Fireworks
Update 10th November 2023
There was a spectacular show this year at the Foyers Community Fireworks on Saturday 4th November at the Loch Ness Shores Camping and Caravanning Club site. All across Scotland there are fewer organised firework displays, but Foyers can still boast a show to remember.
A larger than usual crowd gathered for the send of the season get-together. Other residents watched from their homes up on the hillside and from the Craigdarroch Inn.
Neil Kirkland and his team set off the improved selection of powerful fireworks into a night sky which was almost free from the is that had been present earlier in the week. Neil is a trusted hand at making sure the fireworks go off safely and choses the best fireworks and big rockets that suit our location.
Community Trust director Catriona Fraser said 'Alex and her team at the Loch Ness Shores really pull the stops out for us. It is a great venue with toilets and indoor spaces if needed. There is nowhere else like it in the area to watch a display. Fireworks night is always a great opportunity for catching up with friends and neighbours. The Inverness fireworks have to make do with recorded music, but we go one better with our perennial local musicians. Thanks go to Alex Sutherland and Ernie Randall.'
The Trust meets the cost of the food and the fireworks. This year again, in recognition of the local volunteer effort the Trust has made a donation of £200 to the Scottish Fire and Rescue Service Family Support Trust.
Fireworks Night is a good opportunity for local people to make a charitable donation in the buckets at the event. The charity collection at the event this year totalled £174. All the money collected in the buckets goes to the three charities. Munlochy Animal Aid, MFR Cash For Kids and Mikeysline will each receive a donation of £58 thanks to the generosity of those attending the community fireworks.
Thanks to everyone who gave of their time or money to make the fireworks a success this year.
Update 24th October 2023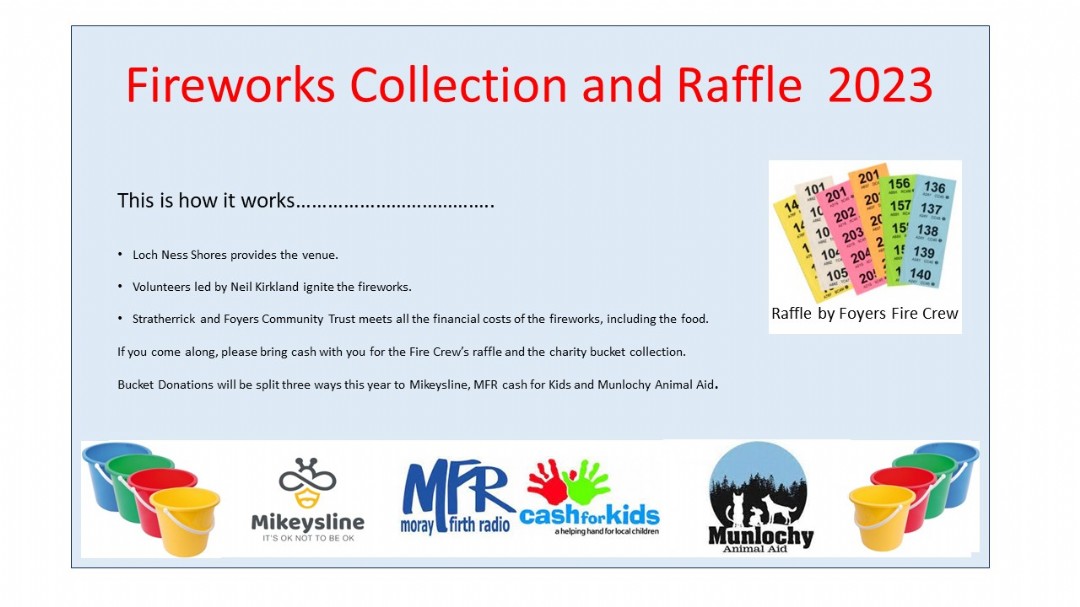 The community fireworks at Foyers is a joint effort between community volunteers, the caravan site and Stratherrick and Foyers Community Trust.
'It's the end of another summer in Foyers and the Strath, so people come together to enjoy the fireworks.' says Trust CEO Tony Foster. Our local Foyers Fire Crew will be running a raffle, so bring cash with you!
Tony added 'The fireworks display and the food are all provided free from Trust funds, but we all feel it is only right to make a collection to benefit some charities which operate around Inverness-shire.'
Tony continued 'We are thinking of other people too, so this year the chosen charities which will benefit are Munlochy Animal Aid, Mikey's Line and Moray Firth Radio Cash for Kids.
There will be buckets to collect donations from those coming along, so please don't leave the house without your cash! In addition, Stratherrick and Foyers Community Trust makes a donation to the Scottish Fire and Rescue Service Family Support Trust. This recognises the work of the community volunteers who make the event possible.
Tony commented 'This year we saw our own local firefighters drafted to help at the massive fire in Glen Affric. This event is an opportunity to show our support for these brave fire crews who protect us every day of the year.'
Foyers Fireworks is open to all and takes place on Saturday 4th November 2023 at Loch Ness Shores Camping and Caravanning Club, Foyers.
The first firework is at 7pm. Do not bring your own fireworks to this event.
Update 3/10/23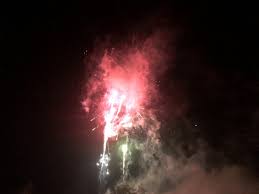 Update 31/8/23
We are pleased to let you know that the community Fireworks night is returning. As with last year, it will be held at Loch Ness Shores campsite, with kind permission from the Camping and Caravanning Club. Food will be provided, and monies raised will be donated to local charities. Further information will be shared soon!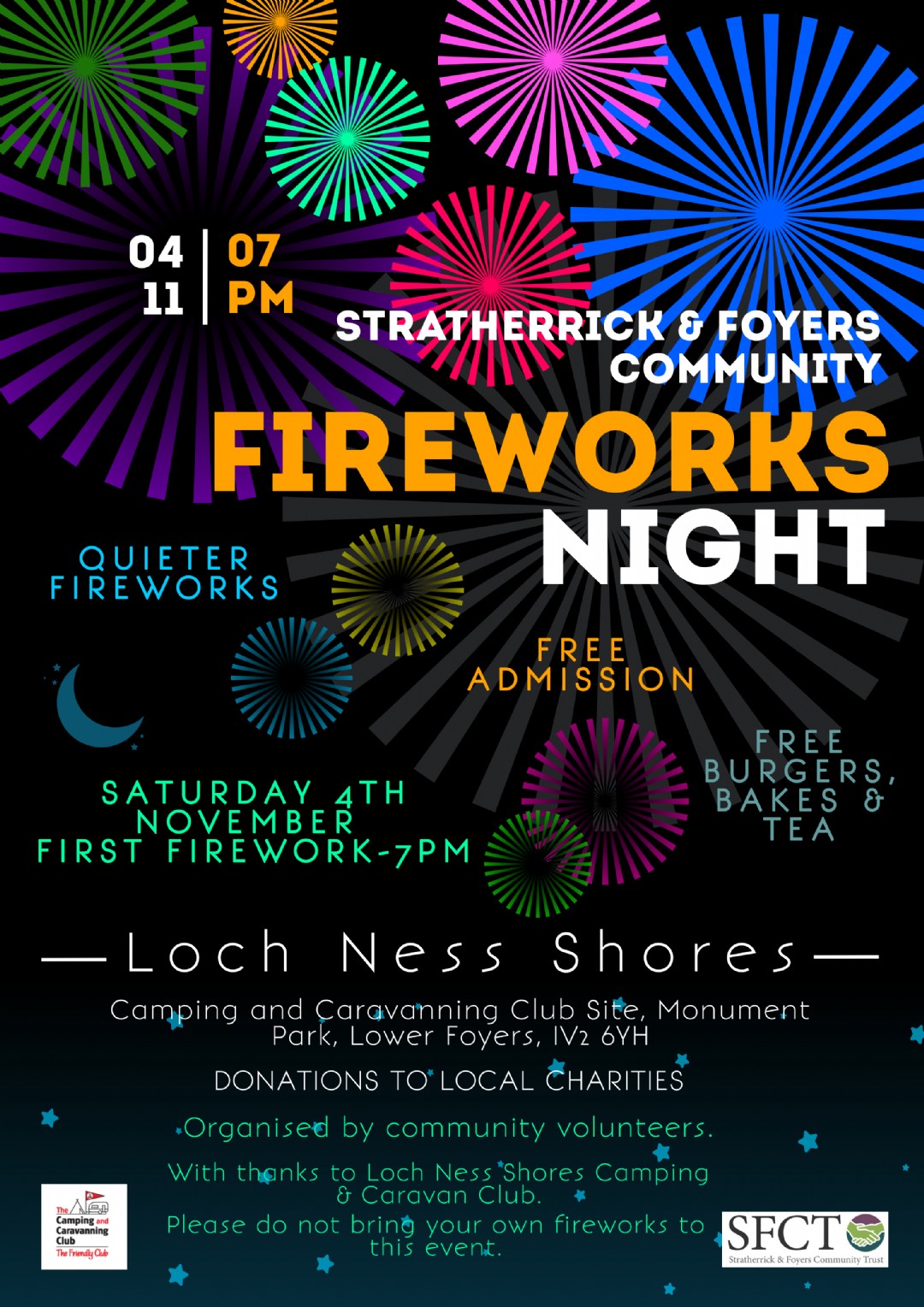 Update 08/11/2022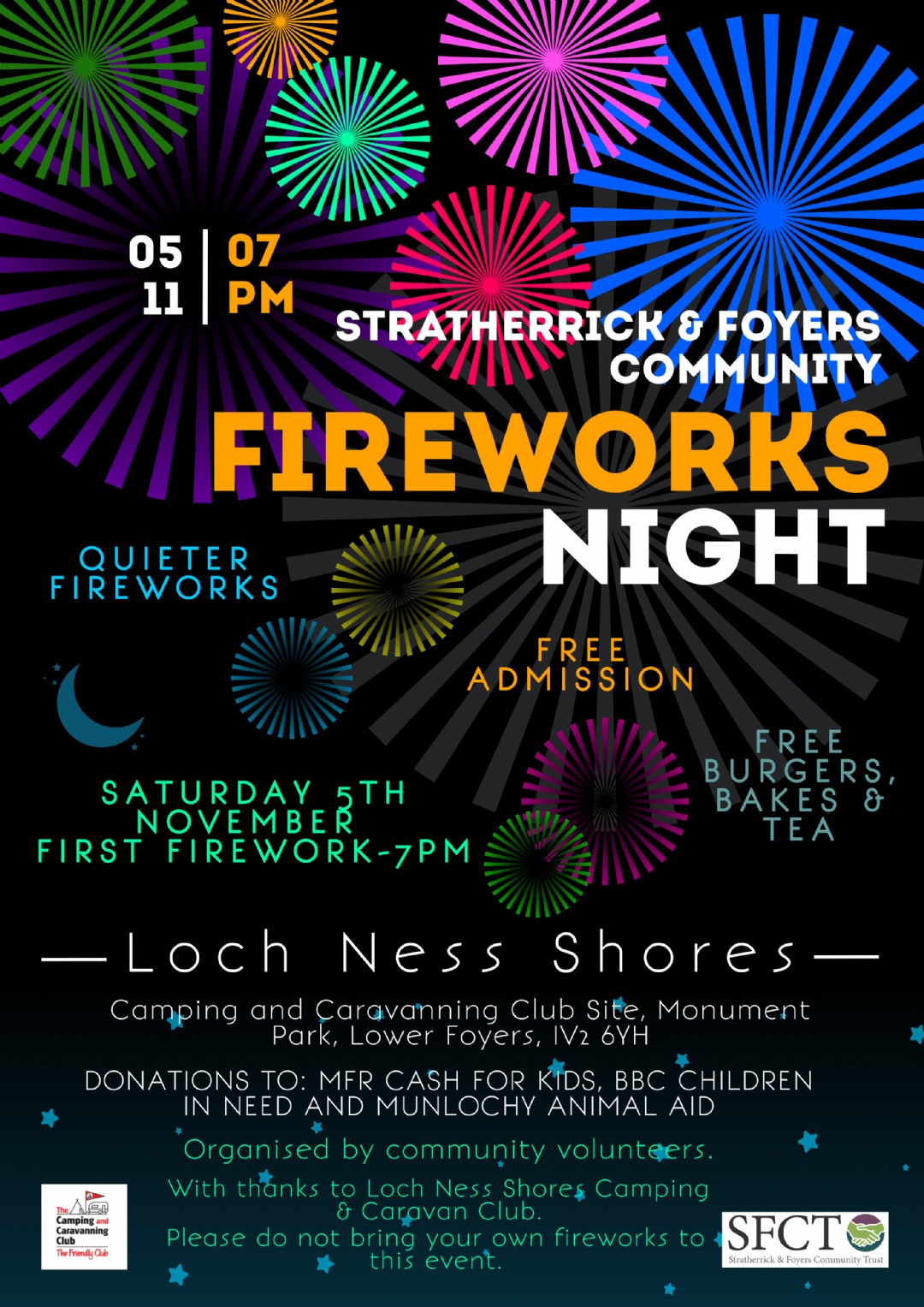 We would like to take the opportunity to say a MASSIVE thank you to every single volunteer that made the Fireworks display on Saturday night a roaring success and putting smiles back on many faces who have missed it over the last 3 years, and to those that attended their first ever firework display. This event would not have been able to take place without these volunteers. If you didn't see Neil Kirkland's shout out, here it is:
'Thanks to everyone who came along to the Fireworks at Loch Ness Shores tonight, a great turnout! Thanks to the Trust for funding the Event and for the Community Volunteers who set up the event. Great food from Alex and her team at the Campsite. Thanks also to all the folk and businesses who donated raffle prizes. Thanks also to Foyers Fire crew who were on hand to keep us all safe. A fantastic amount was raised through donations of £384 which will be split between the 3 nominated charities. A donation of £200 was made by the SFCT to the Fire service family support trust. Thanks Again'
There was also £100 raised in the raffle to go towards the Local fire service.
We have created a feedback survey to gather your thoughts on the event. You can find it here https://www.surveymonkey.co.uk/r/strathfireworks. Both you and your families can fill it in to help guide future events! There were even discussions at this mornings Comms meeting on planning next year's event!
Thank you again to everyone who came along and supported the event! Until next year!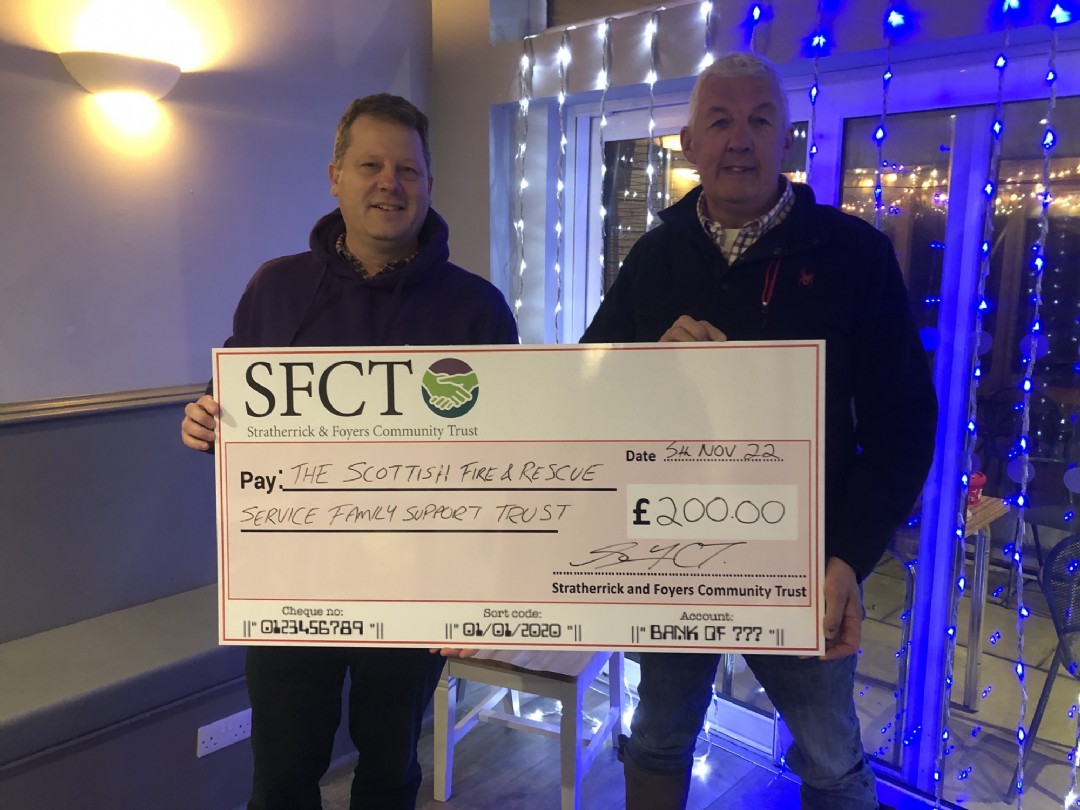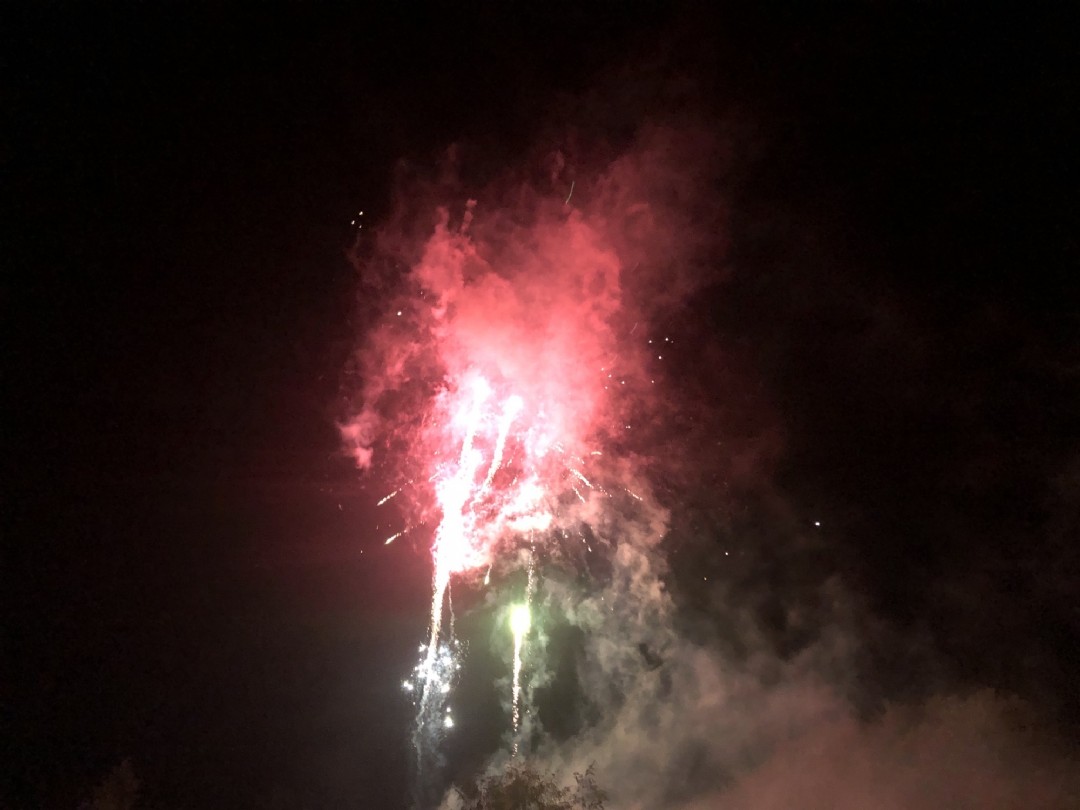 Update 04/10/2022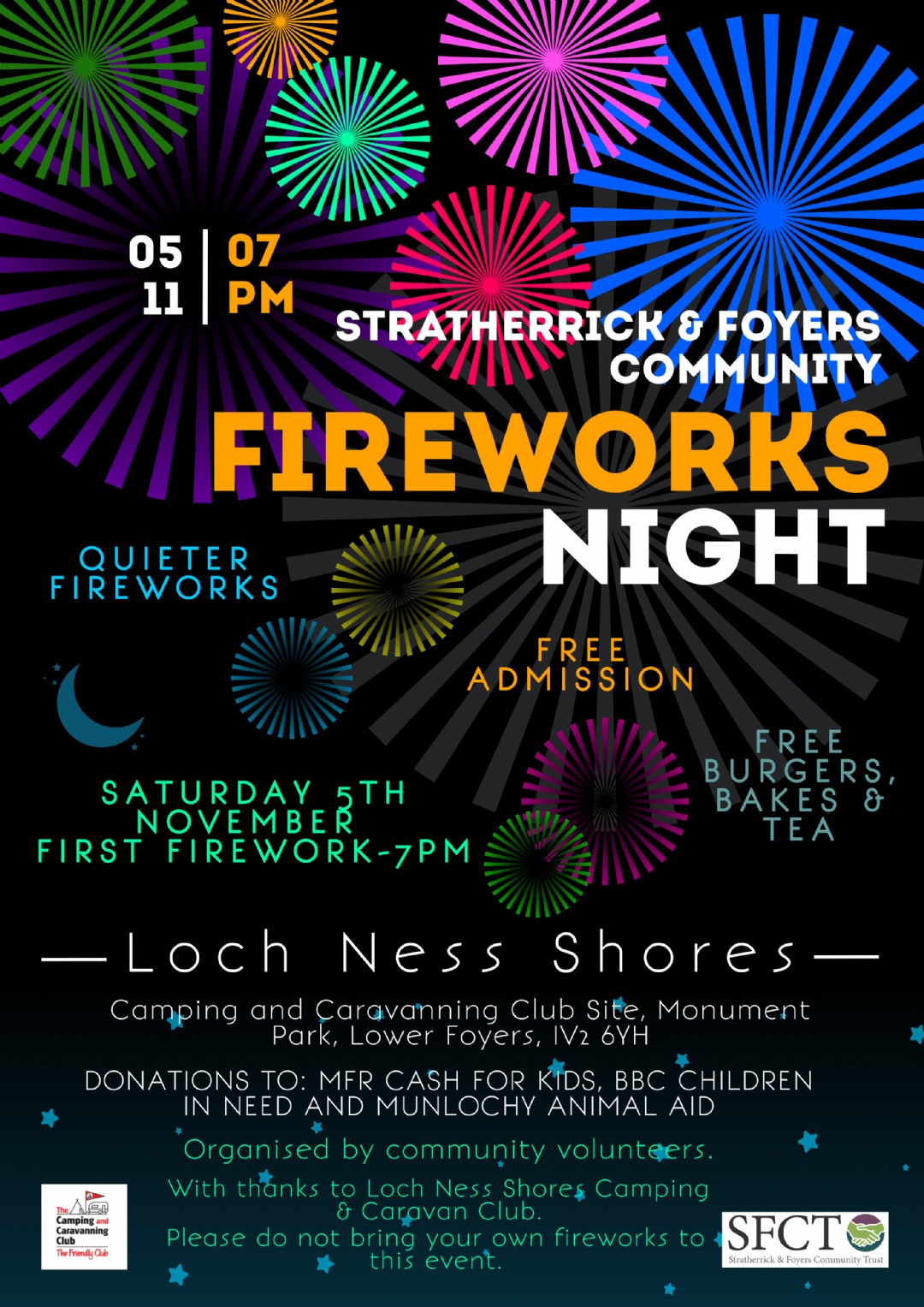 Update 20/09/2022
The Foyers Fireworks Display has been a community favourite for many years. The event is due to return after a break of two years and plans are well advanced for a fun evening.
The venue has of course changed hands. Previously the caravan site was made available by Donald and Lyn Forbes and we are pleased to report that the new owners, the Camping and Caravanning Club has agreed to carrying on this traditional gathering for so many in our community, young and old.
The date this year is Saturday 5th November and is subject to a licence from Highland Council. Entry is free and the first firework will be at 7pm. Neil Kirkland and his experienced team will be responsible for setting off a range of fireworks from a new supplier, Phoenix Fireworks from Kent. Quieter fireworks have been selected this time to reduce the possible impact on local pets, but the fireworks themselves will be no less spectacular.
Stratherrick and Foyers Community Trust meets the cost of the event including the food. This year the Trust has arranged for the Camping and Caravanning Club to open their bistro specially to provide the refreshments. Burgers, bakes and tea are free, but remember and bring some change as there will be buckets to collect cash for local charities. There will be music from local artistes and the site toilets will be available for all.
Trust CEO Tony Foster said 'The aim of the event is to allow everyone in the community to come together and mark the end of autumn. The display promotes safety and is a 'high light' of the Foyers year. Lots of folk love to enjoy the fireworks from vantage points around the village too. If you need special access due to mobility problems, please let us know.'