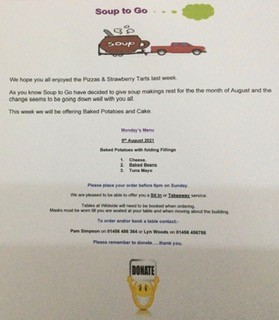 Soup to Go!
Monday, 05 April 2021
The ladies that run the 'Broth and Blether' are starting a 'soup to go' service once a week from Monday 15th March. Soup (plus bread and cake!) can be collected from Wildside between 12 - 1.30pm but must be ordered before 6pm on the Sunday evening.
Please call Pam Simpson on 01456 486364 or Lyn Woods on 01456 486786. They will try to accomodate all dietery requirements and strict Covid rules will be in place.
If you cannot make it to collect your soup, there are some volunteer drivers that can deliver if required. This is available to anyone in the Community and is free of charge due to funding from HIE.